Rorogi, the Orphaned Elephant
we proudly introduce Rorogi, the smart baby elephant, we are fostering. Rorogi is from Kenya. She is raised by the orphanage of the David Sheldrick Wildlife Trust. Thus Rorogi can grow up in the company of other orphan elephants in the Nairobi National Park.

Rorogi is named after the area, where she was found on October 10, 2012. She was 14 months old, hiding on a farm, where she survived over a month in isolation. Why could she survive, without her mother and the herd? It is a mystery of nature. Luckily, at the time she has been lost, the raining season was beginning. She had water to drink and she could take a mud bath.
The Rescue of Rorogi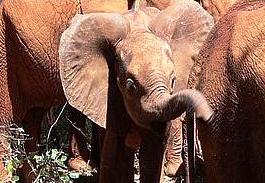 When Rorogi was brought to the orphanage, she was extremely thin, very fearful and shy. She was grieving for her lost mama and family. Soon she latched onto her bottle of milk. But she remained very fearful of humans and would take off into the forest escaping from the Keepers. Some Rorogi-rescues had to be undertaken to bring her back into the nursery. Soon Rorogi became comfortable with the Keepers and relished the company of other orphans.
Rorogi Today
She is a robust little elephant and has trained a lot of activities that she will need when living in the wild. Sie now belongs to the older girls. She has befriended with the elephant girls Arruba and Mashariki. Together with her friends she has been moved to the Reintegration Unit in Tsavo National Park. This unit heralds a new step for Rorogi in her journey back to the wild. It takes about 10 years to raise an elephant.
Rorogi has become the Star in our Browsergame The Bushpilots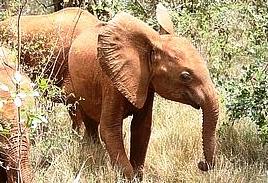 While Rorogi is trained to live in a wild elephant herd, she has become a virtual home in our browser game "The Buschpilots". Her fate has inspired us so much, that we have made the browser game The Buschpilots about Rorogi's rescue. Join the Buschpilots and help the keepers to find the baby elephant.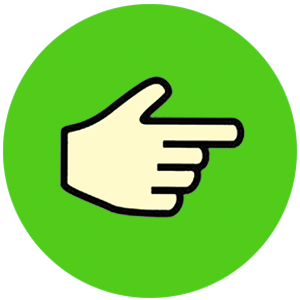 More facts about the rescue of lost elephants