This tasty soup consists of quite a lot of ingredients, but it is easy to make and it is served in East, West and Central Africa.
What you need: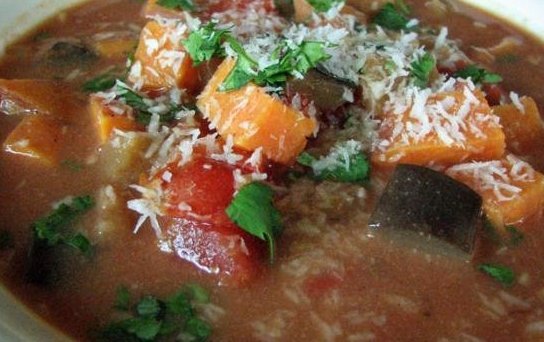 1½ tsp olive oil
2 cloves garlic, minced
1 yellow onion, diced
1 Tbsp fresh grated ginger
4 cups vegetable broth, low-sodium
1 can diced tomatoes
2 sweet potatoes, peeled and diced
½ cup natural peanut butter
2 tsp ground cumin
2 tsp ground coriander
¼ tsp sea salt
¼ tsp ground cayenne pepper
¼ tsp cinnamon
6 cups finely chopped Swiss chard
roasted peanuts, for garnishing
How you make it:
Heat olive oil in a large sauce pan or Dutch oven over medium-high heat. Add garlic, onion and ginger and stir frequently until the onions are softened (approx. 3 min.).
Add 1 cup of water, vegetable broth, tomatoes,sweet potatoes, peanut butter, cumin, coriander, salt, cayenne and cinnamon. Bring to a boil. Reduce heat to medium and cover the pot. Let simmer until potatoes are tender, stirring occasionally (approx. 12 min.)
Add Swiss chard and continue simmering until chard has wilted for about 2 minutes.
Serve soup and garnish with whole-grain croutons.